COVID-19: scheduling and decision to remain Open for Business
The students in the coming weeks are welcome to reschedule at a moment's notice, given the circumstances. CPR Delaware may need to cancel classes at a moment's notice as well. I only ask that students reply to confirmation messages via email or text as soon as possible. If they choose to reschedule, I recommend that they do that sooner rather than later because classes will fill up quickly as many others are also pushing off classes till May. All Selbyville classes are now moved to Seaford until April 30th.
The DE governor released the essential-nonessential businesses list yesterday. It allows CPR classes a little wiggle room because CPR Delaware classes fit into the category of Other Services/Professional Organizations/Business/ Professional Organizations; which may remain open.
Call with any questions or concerns. 302-462-5594
COVID-19: Precautions
#1: Classes are still being held for 2 major reason. In Sussex-County, we are not in an overly high-risk area and the class sizes are 10 or less people. CPR Delaware will continue to follow the recommendations of the CDC, State Agencies, as well as the AHA. #flattenthecurve
#2: Sanitation- Please wash your hands upon arrival and prior to departure. While social distancing is being recommended, you should expect to share a manikin; however, whenever possible a manikin to student ratio will be 1:1. Gloves and sanitizing wipes will be readily available as well as a sinks with antibacterial soap to wash hands as needed. If you have a concern about coming, please give notice as soon as possible.
#3: If you are feeling sick or if you are a high-risk individual, contact CPR Delaware to reschedule.
#4: CPR Delaware has always used barrier masks like the image below. The mouthpiece on the barrier mask that students use is single use.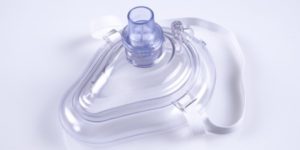 CPR Delaware has never considered the practice shields (sticker-like) to be sanitary, and all of the organizations (AHA & ARC) have now asked instructors to stop using them during this COVID-19 pandemic. I'm happy to admit that we've always been a step ahead of them ????
#5: During this time, the American Heart Association recommends that employers and regulatory bodies consider extending the expiration of AHA cards by 60 days. However, please know that it is ultimately up to the discretion of employers and regulatory bodies who require current AHA Provider Cards to consider allowing extensions during this time.
Please stay safe and stay well.